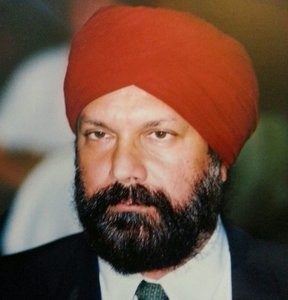 Mr. Amargit Singh
PSMB Train-The-Trainer certificate no: TTT/0692
Amargit Singh is currently the Managing Consultant with Biz Excellence Systems. He holds
(a) an MBA degree from Cranfield School of Management, England;
(b) M.Sc degree with distinction in Engineering Business Management from University of Warwick, England,
(c) M.Sc degree from Universiti Putra Malaysia (UPM),
(d) MSc degree (1st division) and
(e) BSc degree (1st division).
He is also a Chartered Accountant (Malaysia) and Chartered Management Accountant (UK). He is
(a) fellow member of The Chartered Institute of Management Accountant, England and
(b) a member of Malaysian Institute of Accountants.
Amargit is an ASQ- Certified Six Sigma Black Belt, Certified Quality Engineer and Certified Quality Auditor. He is a Chartered Safety and Health Practitioner (UK), Chartered Member of The Institution of Occupational Safety and Health (UK), a Certified Information Security Auditor (CISA, USA) and Certified in Risk and Information Security Control (CIRSC, USA). He has passed IRCA-certified ISO 27001:2005 Information Security Management Systems. He is IRCA-registered Lead Assessor for ISO 9001 Quality Management Systems, ISO 14001 environmental management systems and assessor for OHSAS 18001, ISO 27001:2005 Information Security Management Systems, EICC Code Conduct and Corporate Social Responsibility (CSR) Reporting. He is an assessor for validation and verification of Green- House Gases-related CDM (GHG) projects registered with UNFCCC.
He has passed
(a) SGS Clean Development Mechanism (CDM) Lead Assessor course
(b) EU ETS Aviation training
(c) ISCC auditor training for biofuel (RED).
He has Certification in Training and has passed Train-The-Trainer course organized by Pembanguan Sumber Manusia Berhad with certificate no: TTT/0692 and Certification in Training Evaluation (Cert No EET/0022).
Amargit Singh has worked with SGS Malaysia as the General Manager for certification & training, where he has conducted certification audits and training on ISO 9001, ISO 14001, OHSAS 18001, Case Study preparation, Audits, Greenhouse Gases projects validation & verification. Before assuming this position, he worked as Works Manager in a British multi-national, Revertex Finewaters Sdn Bhd and Quality Manager with defense-industry manufacturer, SME Ordnance Sdn Bhd.
He has more than twenty-eight years of "hands-on" experience in different areas of management, which includes: general management, manufacturing, service industry, business development, business strategic planning, performance improvement, materials management, logistics, quality engineering, human resource management (including training), six sigma, lean six sigma, quality and environmental audits, green-house gases verification and validation (UNFCCC), information security auditing, production planning and control, budgeting and strategic cost management, occupational safety & health, toxic & hazardous waste management and research.