Training Date :
4th -5th April 2018
4th – 5th July 2018
INTRODUCTION
Any Manager or Executive who manages subordinates is an HR Manager.  All Line and Non-HR Managers are the "REAL" Operational HR Managers.
Organizations need employees to achieve organization's goals.  To be effective, they need to be directly motivated with the right HR Management Systems at the operational level.
This "HR for HODs, Managers and Executives" programme seeks to empower LIne and Non-HR Managers and Executives with the necessary knowledge and skills to do just that.
In this programme, Non-HR and Line Managers and Executives will learn how to have a proper system of managing and motivating their subordinates the HRM way.  They will also learn how to handle indiscipline in their departments and how to conduct the Domestic Inquiry.
LEARNING OUTCOMES
At the end of the "HR for HODs, Managers and Executives" programme, participants are able to:
Organise an effective department

Write proper job descriptions and job specifications

Conduct a successful interview

Identify training needs, plan and carry out training and development for the department

Conduct professional performance evaluation and draw up Performance Improvement Plans (PIPs)

Conduct a professional counselling session

Manage probationers the professional way

Improve employee relations and ethics in management
WHO SHOULD ATTEND
Head of Departments (HODs)

Managers

Executives
METHODOLODY
This "HR for HODs, Managers and Executives" training methodology will be a mixtures of Presentations, Interactive Group Discussions, Case Study and Role Play.
COURSE CONTENT
1) Importance of HR Management for HODs
What policies and SOPs can HOD set?

How to influence HR policies

Role of Line Managers in HRM
2) Organising the Department
Allocating jobs and responsibilities

Organising the reporting structure

Manpower planning

Succession planning
3) Organising Job Descriptions and Job Specifications
Content of Job Descriptions

Balancing up the job descriptions

Deciding and drafting job specifications
4) Job Interviewing Skills
Types of interview questions

Conducting the interview

Evaluating responses
5) Job Training & Developing Employee Potential
Identifying training and development needs (TNA)

Drawing up training programmes

Initiating and managing transfers and promotions

Multitasking

Career planning and development
6) Employee Performance Evaluation and Performance Management
Setting performance standards

Evaluating performance

Drawing up Performance Improvement Plans (PIPs)

Action for non-performance or poor performance
7) Counselling
Who should counsel?

Difference between advice and counselling

Required skills for counselors

How to counsel?
8) Managing Probationers
Setting standards for probationers

Managing performance

Confirming employees

Differences between probation and confirmed service

Legal problems and challenges in managing probationers
9) Improving Employee Relations & Ethical Management
What do employees want?

Personal leadership styles for the new generation

Why employees leave?

Ethics in management
FACILITATOR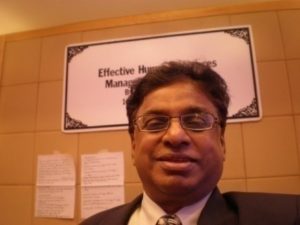 Mr. Cyril Pagadala
– BA (English)
– MA (Human Resource Management)
Cyril has a BA in English and an MA in Human Resource Management. He comes with many years of real hands-on hard knock work experience in Human Resource Management, Operations, Customer Service and Administration followed by many years of lecturing experience.
He is now a corporate trainer since 2004.
His management hands-on work experience covers various industries such as the banking, manufacturing, hospitality and other service industries He has worked for both local and multinationals and in both small and large companies. He was the Director of Human Resource & Administration of a group of companies.
He has gone through the whole gamut of HRM functions with customer relations and general leadership and management experience.
He is now a dedicated full-time corporate trainer in leadership and management principles, all areas of human resource management, employment laws, customer service, English and business communication since 2004.
His tenure in organizations has provided him with deep insight and lasting exposure to various problems and solutions of different kinds. He brings this exposure to his specialised areas of training.
He therefore delivers and facilitates the programmes in a simple, easy-to-understand way and willingly shares knowledge. Due to his real hard-knock work experience, he is able to provide many simple solutions to work challenges.
Maybe this is also due to his simple philosophy: "SHARE REAL WORK KNOWLEDGE". Perhaps a cue may also be taken from a participant: 'I NEVER KNEW THIS WAS SO EASY!'
His participants range from CEOs, managers, executives, supervisors to clerks; and professional engineers, lawyers and computer specialists both local and foreigners. He has many repeat clients. He has trained small, medium and large local and multinational organizations from various industries.
Course Fees & Registration
FEE PAYABLE PER PARTICIPANT :
Normal Price                                          : RM1,688
Early Bird (15 days before event)       : RM1,588
Group Discount (>2 participants)       : RM1,388
Fee includes course materials, lunch, 2 tea breaks per day and Certificate of Attendance (upon completion of the training).
Download our Registration form Here and sent it to us by
Fax : +603 5523 2827
Email : sales@wanfahprosper.com
CANCELLATION / TRANSFER
Upon registering, participant(s) are considered successfully enrolled in the event.  Written cancellations / transfer notice received :
More than ten (10) working days before the event, a refund (less administrative charge of 15%) will be made.

Ten (10) working days or less before the event, no refund will be made.

For no show on the day of the event, full payment is required. If you cannot attend the event, you can nominate a substitute at any time without payment of an administration fee.

A full (100%) refund may be granted if the course is cancelled by Wanfah Prosper PLT (WFP). WFP reserves the right to postpone or cancel the event and / or change facilitator at any time should circumstances beyond its control arises. WFP also reserve the right to make alternative arrangements without prior notice should it be necessary to do so.
Payment
Please make cheque payable / direct credit to :WANFAH PROSPER PLT
Accounts Number : 3812930508
Bank : Public Bank Berhad
DATA PROTECTION
Personal Data is gathered in accordance with the Personal Data Protection Act 2010 (Act 709)