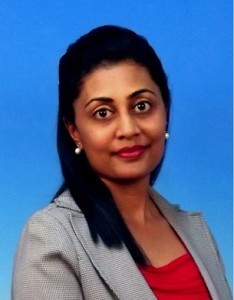 Ms. JAMUNA KARMEHEN
– MSc. Business Leadership (Nottingham Trent University,UK)
– BSc Microbiology (Universiti Putra Malaysia)
– Certified Outsourcing Specialist :- Human Resources Exam
(International Assoc of Outsourcing Professionals)
PSMB Train-The-Trainer Certificate no : EMP/0878
Click HERE to download Jamuna Karmehen Profile in PDF format
Jamuna Karmehen is the creator of P.O.W.E.R Pack Presentation Workshop which was designed to bring out the great presenter in each individual. She is a dynamic and result oriented Corporate Trainer & Consultant with 14 years of experience in sales, marketing, training, Learning & Development and Human Resource.
Her professional career started with Pfizer Pharmaceuticals as a Medical Sales Representative. She consistently achieved the sales target by applying effective selling skill and leveraging on the product knowledge to identify customer needs. This includes partnership with Medical, Marketing and Training on strategic initiatives that can affect positively the sales and customer relationship.
Then, she was promoted to sales training and was responsible to provide training & coaching to enhance the selling skill of the Field Force as well as work on projects to increase the Field Force Effectiveness & Managers' Competencies. Her greatest accomplishment was winning the Top Trainer Award for 2 years. She was the Certified Yellow Belt Trainer for Continuous Improvement; and was a Certified Trainer from the Charted Institute of Personnel & Development (CIPD), UK. Jamuna's strength in presentation skill was further enhanced by her achieving the Competent Toastmaster status and winning contests such as Table Topics, Humour Speech & Evaluation Speech.
Next, she successfully embarked on Talent Acquisition role in Human Resource where she had the opportunity to learn and share best practices with other countries. Her scope was on recruitment, manpower planning and employee retention. Her proudest achievement was winning the Best Project for 'Ideas Thinking Out of the Box' at the global level. Her project was on 'Walk-In Interview & F.I.S.H Referral Program' aimed at attracting talents and speeding up the hiring process.
In 2015, she was Certified as Practitioner in Neuro Linguistic Programming (NLP) and Time Line Therapy. Her approach is always on a high energy level, and incorporated with a great deal of fun element!