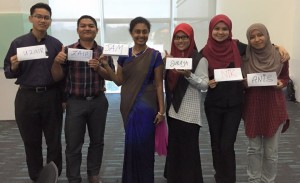 Training Date :

This programme is only for In House training only.
Please contact our office at +603-55231819 or email to sales@wanfahprosper.com for a quotation.
Presentation is not about Power Point slides… It's about YOU! YOU are the Presenter…
INTRODUCTION 
The goal of this P.O.W.E.R pack Presentation Skill is to bring out the great presenter in each individual. This course is designed and delivered for maximum learning in an interactive and fun way. It comprises informative knowledge transfer via various training modes, exercises, group activities, discussions and live video camera recording of participants' final presentation.
LEARNING OUTCOMES
By the end of the "P.O.W.E.R. pack Presentation Skill" workshop, participants will be able to:
apply P.O.W.E.R elements in structuring, designing, developing and delivering a presentation for a business case to external customers, internal business partners and senior leadership team
outline the key factors in starting a presentation confidently; what TO say, what NOT TO say, ways of capturing audiences' attention; apply useful Power Point tricks; creating a lasting impression
identifying individual's presentation style to further enhance and improve accordingly
Benefits to Participants
They can create effective business presentation that leads to increased support, commitment, sales and trust from the stakeholders
They have an opportunity to engage creatively with internal and external customers that results in business relationships which is a long term ROI
WHO SHOULD ATTEND
This program can be further customized to cater for various groups of students, executives, Individual Contributors, People Managers and Manager's Manager. In short, any one who would present themselves.
METHODOLODY
This "P.O.W.E.R. pack Presentation Skill" workshop's methodology is a combination of expert input, interactive group discussions, presentations and video. Live video recording of each participants' final presentation will be conducted.
FACILITATOR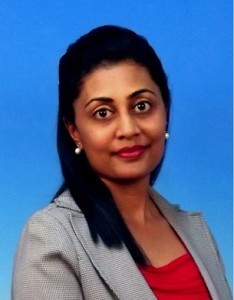 Ms. JAMUNA KARMEHEN
PSMB Train-The-Trainer Certificate no : EMP/0878
Qualification
– MSc. Business Leadership (Nottingham Trent University,UK)
– BSc Microbiology (Universiti Putra Malaysia)
– Certified Outsourcing Specialist :- Human Resources Exam
(International Assoc of Outsourcing Professionals)
Jamuna Karmehen is the creator of P.O.W.E.R Pack Presentation Workshop which was designed to bring out the great presenter in each individual. She is a dynamic and result oriented Corporate Trainer & Consultant with 14 years of experience in sales, marketing, training, Learning & Development and Human Resource.
Her professional career started with Pfizer Pharmaceuticals as a Medical Sales Representative. She consistently achieved the sales target by applying effective selling skill and leveraging on the product knowledge to identify customer needs. This includes partnership with Medical, Marketing and Training on strategic initiatives that can affect positively the sales and customer relationship.
Then, she was promoted to sales training and was responsible to provide training & coaching to enhance the selling skill of the Field Force as well as work on projects to increase the Field Force Effectiveness & Managers' Competencies. Her greatest accomplishment was winning the Top Trainer Award for 2 years. She was the Certified Yellow Belt Trainer for Continuous Improvement; and was a Certified Trainer from the Charted Institute of Personnel & Development (CIPD), UK. Jamuna's strength in presentation skill was further enhanced by her achieving the Competent Toastmaster status and winning contests such as Table Topics, Humour Speech & Evaluation Speech.
Next, she successfully embarked on Talent Acquisition role in Human Resource where she had the opportunity to learn and share best practices with other countries. Her scope was on recruitment, manpower planning and employee retention. Her proudest achievement was winning the Best Project for 'Ideas Thinking Out of the Box' at the global level. Her project was on 'Walk-In Interview & F.I.S.H Referral Program' aimed at attracting talents and speeding up the hiring process.
In 2015, she was Certified as Practitioner in Neuro Linguistic Programming (NLP) and Time Line Therapy. Her approach is always on a high energy level, and incorporated with a great deal of fun element!
PROGRAMME OUTLINE
DAY 1
Module I – Positive Start
Structure: Business case preparation; making first impressions with confidence; setting expectation
Presenter's Four Quadrant
Communication & Challenges
Module II – Own the Presentation
Design & Develop: Creating the materials; be in control of the presentation; using various modes of delivery
Original & Personal Touch
Effective Tools
Module III – Words that Trigger
Delivery: Using powerful words and right tone of voice; speaking with honesty and clarity; "what to say" & "what not to say"
Words & Voice Combination
Integrity
DAY 2
Module IV – Enrollment
Audience Enrollment: Capture audiences' interest; credible to answer questions; influencing their decisions
Enthusiasm & Fun Element
Managing Attention Span
Module V – Results
Result Oriented: Achieving your selling objective; reinforce the key selling messages; feedback and evaluation.
Closing the Deal
Continuous Improvement
Registration of Interest :
Please contact us for a quotation.
DATA PROTECTION
Personal Data is gathered in accordance with the Personal Data Protection Act 2010 (Act 709)