Training Date :
5th & 6th March 2018
27th & 28th June 2018
Download Registration Form from HERE
INTRODUCTION
(1) Who are specially protected under the law?
(2) What are the minimum benefits that should be given to employees and how to administer them?
(3) Are part-timers protected under the law?
(4) What is sexual harassment law?
(5) What are the new amendments to the law?
(6) What is the protection for management employees?
These and other questions are answered in this practical engaging workshop.  This "A Practical Application of the Employment Act 1955 and Related Laws and Regulations" programme focuses on the Employment Act 1955; The Labour Ordinances of Sabah 2004 & Sarawak 2005; The Minimum Wages Act 2012; The Minimum Retirement Age Act 2012; Employment of Part-timers Rules 2010; and Employment of Children and Young Persons Act 1966; together with all the latest amendments updated to the date of the workshop.
In other words, this comprehensive workshop covers everything you need to know about employment law.
The programme is delivered in a simple easy-to-understand manner with a minimum use of legal jargon. Unavoidable legal jargons are also explained in a simple non-legal way so that even a newcomer will be able to understand it.
Furthermore, the workshop is facilitated by a very experienced HR practitioner and facilitator, who understands your needs.
LEARNING OUTCOMES
At the end of the programme, participants are able to:
Identify who is protected under the EA and LO and who is not
Draw up employment contracts correctly for full-time employees, part-timers and children and young persons
Correctly administer and compute the various employee benefits using the correct legal formula: annual leave, sick leave, maternity leave, PH, rest days, etc
Compute unpaid leave and early leaving or late joining of employment in the month
Compute retrenchment and termination benefits
Provide adequate legal benefits to part-timers, children and young persons
Administer sexual harassment procedures
Maintain registers according to law
Manage inspections and complaints from the Labour Department
Who Should Attend
HR Managers
HR Executives
Compensation Specialists
Payroll Specialists
Employee Relations Executives
Department Managers and Executives
METHODOLODY
Presentations, interactive discussions, quizzes, workshops, exercises, situational case-studies
COURSE CONTENT
DAY 1
1) Introduction: What is the Employment Act 1955 and Labour Ordinances of Sabah (2004) & Sarawak (2005)?
Purpose of the Employment Act 1955 & Labour Ordinances 2004/2005?
Who is covered under the Act and Ordinances?
Categories of employees who are entitled to all benefits including OT under the employment laws even though they exceed the salary limits
Definition of manual worker
General penalties under employment laws
2) Normal Hours and OT
Normal working hours & days
Overtime Rates
Maximum OT per day and month
3) Rest Days & OT
Rest days entitlement
Payment rate for work done during normal hours of work & OT
Can rest days be replaced?
4) PH & OT
Public holidays entitlement
What is the rate for work done on a rest day which is also a PH?
Rate for work done during normal hours on PH and OT
Meaning of compulsory and non-compulsory PH
Can PH be replaced?
5) Annual Leave
Annual Leave entitlement
Conditions for encashment of annual leave
Conditions to carry forward annual leave
Can an employee take annual leave during probation?
6) Sick Leave Administration
Hospitalization & Non-hospitalization Leave entitlement
What do you mean by '60 days of sick leave in the aggregate'?
Conditions for sick leave
Can an employee take sick leave during probation?
Can employees go to non-panel doctors?
7) Protection of Women
Type of prohibited employment
Working hours
Prohibited work hours
Minimum rest hours
8) Maternity Protection
Maternity protection for current / deceased / ex-employees
Notice period to be given by employee
Commencement of maternity leave
Unpaid maternity leave
Maternity Leave entitlement
Is a probationer entitled to maternity leave?
Maternity Register
DAY 2
9) Minimum Wages Act 2012
Minimum wages in Malaysia
Formula for calculation of minimum wages by hour and day
Effective date of minimum wages
10) Wages Deductions and Payment
Legal payment of wages
Authorised deductions
Limit on deductions
When is there no limit on deductions?
Payment date
Content of Pay Slip
11) Types of Disciplinary Action
Suspension period before and after DI
Full pay, ½ pay or no pay during suspension?
Types of disciplinary action permitted under law
12) Sexual Harassment
Meaning of harassment and sexual harassment
Dealing with sexual harassment at the workplace
Who is covered under this act?
13) Minimum Retirement Age Act 2012
Effective date of retirement age
Who is affected?
What is the retirement age?
What is the situation of current employees?
14) Termination / Retrenchment
Notice period for Termination / lay-off
Under what situations notice of termination is not required?
Situations when employers cannot terminate
Rate of termination / retrenchment benefits payment
Payment date
15) Children and Young Persons (Employment) Act 1966
Definitions of 'child' and 'young person
Work hours and days
Prohibition of types of work and work-hours
Limitation of obligations and liabilities of 'employer vs child and young person'
16) Employment (Part-time Employees) Regulations 2010
Who is a part-timer?
Normal hours and days for part-timers
Benefits
OT payments
17) Other Registers, Records and Notice Boards
Employment Register
Validity period of records
Notice board regulations
18) Inspection by Labour Department
Authorized officer
Responsibilities and limitations of employer and employee
Responsibilities and limitations of person being investigated
19) Complaints to Labour Department
Who can complain?
How are the complaints handled?
Action for employers who abscond
FACILITATOR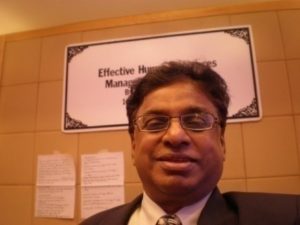 Mr. Cyril Pagadala
– BA (English)
– MA (Human Resource Management)
Cyril has a BA in English and an MA in Human Resource Management. He comes with many years of real hands-on hard knock work experience in Human Resource Management, Operations, Customer Service and Administration followed by many years of lecturing experience.
He is now a corporate trainer since 2004.
His management hands-on work experience covers various industries such as the banking, manufacturing, hospitality and other service industries He has worked for both local and multinationals and in both small and large companies. He was the Director of Human Resource & Administration of a group of companies.
He has gone through the whole gamut of HRM functions with customer relations and general leadership and management experience.
He is now a dedicated full-time corporate trainer in leadership and management principles, all areas of human resource management, employment laws, customer service, English and business communication since 2004.
His tenure in organizations has provided him with deep insight and lasting exposure to various problems and solutions of different kinds. He brings this exposure to his specialised areas of training.
He therefore delivers and facilitates the programmes in a simple, easy-to-understand way and willingly shares knowledge. Due to his real hard-knock work experience, he is able to provide many simple solutions to work challenges.
Maybe this is also due to his simple philosophy: "SHARE REAL WORK KNOWLEDGE". Perhaps a cue may also be taken from a participant: 'I NEVER KNEW THIS WAS SO EASY!'
His participants range from CEOs, managers, executives, supervisors to clerks; and professional engineers, lawyers and computer specialists both local and foreigners. He has many repeat clients. He has trained small, medium and large local and multinational organizations from various industries.
Course Fees & Registration
FEE PAYABLE PER PARTICIPANT :
Normal Price                                          : RM1,688
Early Bird (15 days before event)       : RM1,588
Group Discount (>2 participants)       : RM1,388
Fee includes course materials, lunch, 2 tea breaks per day and Certificate of Attendance (upon completion of the training)
Download our Registration form Here and sent it to us by
Fax : +603 5523 2827
Email : sales@wanfahprosper.com
CANCELLATION / TRANSFER
Upon registering, participant(s) are considered successfully enrolled in the event.  Written cancellations / transfer notice received :
More than ten (10) working days before the event, a refund (less administrative charge of 15%) will be made.
Ten (10) working days or less before the event, no refund will be made.
For no show on the day of the event, full payment is required. If you cannot attend the event, you can nominate a substitute at any time without payment of an administration fee.
A full (100%) refund may be granted if the course is cancelled by Wanfah Prosper PLT (WFP). WFP reserves the right to postpone or cancel the event and / or change facilitator at any time should circumstances beyond its control arises. WFP also reserve the right to make alternative arrangements without prior notice should it be necessary to do so.
Payment
Please make cheque payable / direct credit to :WANFAH PROSPER PLT
Accounts Number : 3812930508
Bank : Public Bank Berhad
DATA PROTECTION
Personal Data is gathered in accordance with the Personal Data Protection Act 2010 (Act 709)