This programme is only for In House training only.
Please contact our office at +603-55231819 or email to sales@wanfahprosper.com for a quotation.
COURSE DESCRIPTION
An increasingly competitive, demanding and globalized corporate environment is undoubtedly subjecting people to ever increasing levels of occupational stress. This is compounded by a host of personal, financial and environmental stressors that have a negative impact on an individual's functioning, both on a personal and professional level. This "Handling Your Stress" program aims to create awareness of stress and its detrimental effects and to provide effective and evidence based solutions.
WHY IS IT ESSENTIAL TO ATTEND THIS "HANDLING YOUR STRESS" PROGRAM?
To identify stress related problems early and promote help-seeking behavior within your organization
To equip managers with skills to manage stress related problems and address them effectively
To provide an avenue to identify occupational stress with the focus on preventing or minimizing these stressors in order to create a pleasant and productive working environment
KEY BENEFITS
Ultimately the aim of this program is to create an environment within your organization that actively identifies, manages and implements stress prevention measures.
LEARNING OBJECTIVES
Identify stressors relevant to each individual (personal, occupational and environmental stressors)
Enable individual and managers to comprehend the adverse effects of chronic unresolved stress on oneself and to the productivity and profitability of the organization
Active screening for possible stress and related conditions within the organization
Apply techniques of effective coping skills
Outline potential strategies to prevent, minimize and effectively cope with stress, at organizational and individual levels.
"HANDLING YOUR STRESS" CONTENT
 Introduction to stress
Conceptualizing stress
An overview of the prevalence of occupational stress
Identifying occupational stressors in the organization
  Recognizing stress
Barriers to recognition of occupational stress
Acute versus chronic stress
Signs and symptoms of stress
The role of individuals and employers
  The damaging effects of chronic stress
The body's response to chronic stress
The psychological reaction to chronic stress
The impact of chronic stress on the organization
 Managing stress
Primary, secondary and tertiary interventions
Individual strategies
Organizational strategies
Relaxation therapy
Physical therapy
Psychological therapies
Medical therapies
Policy issues
METHODOLOGY
Lectures
Handouts and Case studies
Group work and discussion
Self rating questionnaires
Hands-on relaxation exercises using audio and video tools
FACILITATOR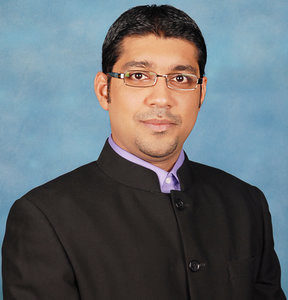 Dr Gurdeep S Grewal
-MBBS, CMIA, MPM
PSMB Train-The-Trainer Certificate no: TTT/6524
Dr Gurdeep is a practicing medical doctor and Psychiatrist. He has more than nine years of experience working in the area of psychological health and has worked in major mental health facilities around the country.
He is passionate about the promotion of psychological well being and prevention of mental illnesses and has conducted courses for various organizations, including within the civil service and for NGO's locally as well as overseas. Working at the individual and organizational level, he focuses on identifying stress and coming up with solutions for preventing, minimizing and coping with stress and other psychological problems. Your organization can benefit from his expertise in the area of psychological health and wellness by creating a culture of 'healthy body and mind' within your organization.
His executive coaching activities include finding meaningfulness at the individual and organizational levels to increase personal satisfaction and thereby aid in increased productivity. He is a professional psychological health expert who works to understand what makes us tick, what causes us to fail or helps us to succeed.
Registration of Interest :
Please contact us for a quotation.
Phone : +603 5523 1819
Fax : +603 5523 2827
Email : sales@wanfahprosper.com
DATA PROTECTION
Personal Data is gathered in accordance with the Personal Data Protection Act 2010 (Act 709)