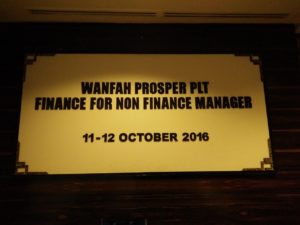 Download Brochure
Training Date :
16th and 17th April 2018
18th and 19th July 2018
To download Registration Form, click HERE
INTRODUCTION 
Good news, you have been promoted to manager. Are you ready to move higher up the corporate ladder? Do you know that your contribution to the bottom line of your organisation decide whether you could move higher? Do you know how to read the Financial Statements, deciding your pricing of your products and using Budget as your planning and control tools? Get all these questions solved by attending the Finance for Non Finance Managers training.
In this "Finance for Non Finance Managers" workshop, participants will learn to understand how to read Financial Statements and utilize some Management Accounting Tools to increase their knowledge and skills. This highly hands-on and practical mock business will help participants to manage their day to day operations, planning and decision making process.
LEARNING OUTCOMES
By the end of the "Finance for Non Finance Manager" workshop, participants will be able to:
Improve their accounting and financial literacy & vocabulary
Understand the basics concept of accounting and how business transactions are captured
Expose  to budgeting process and using budget as a planning and control tool
Managing cost better and decide on pricing decision especially during resources constraint situation
Detect early warning signs of possible projects or business failure
Grasp useful Financial & Management Accounting Tools and techniques required for effective decision making.
WHO SHOULD ATTEND
All savvy managers and executives in functions like :
Sales & Marketing
Technical and Engineering
Human Resources
Production & Engineering
R & D
Purchasing & Procurement
Warehouse and Logistics
General Managers
Directors
Anyone who is determined to be successful in his / her career
METHODOLODY
This "Finance for Non Finance Manager" workshop's methodology is a combination of expert input, interactive practical exercises, games, group discussions, exercise worksheets, presentations and video.
FACILITATOR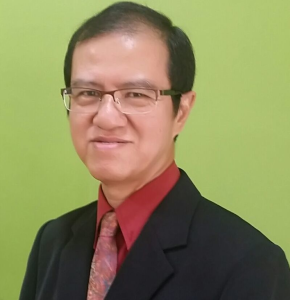 Mr. Tan Chee Wan
PSMB Train-The-Trainer certificate no: TTT/6518

Qualifications:
Fellows Member of Chartered Management Accountant – FCMA (UK)
Chartered Accountant (Malaysia) – CA (M'sia)
Chartered Global Management Accountant – CGMA
Competent Toastmaster – CTM
Click HERE to download Tan Chee Wan profile in PDF format
Tan Chee Wan is a Senior Member (FCMA) of the Chartered Institute of Management Accountants, CIMA and a member of Malaysian Institute of Accountants, MIA since 1992. He has been a Council Member of the CIMA Malaysia Divisional Council since 1998 until the Divisional Council dissolved in May 2012. Chee Wan is also a duly certified Competent Toastmaster of Toastmaster International.
Chee Wan has had a long and distinguished career as a Management Accountant in a number of well-known Malaysian and International Companies.  He started his career in Finance as an Auditor.  In 2000, he joined KNM Berhad as Group Financial Controller and played a pivotal role in KNM's listing submission.  In December 2005, Chee wan returned to his hometown, Melaka and worked for Coats Thread (Malaysia) Sdn. Bhd. as Finance Manager / Director and retired in March 2012 to form Wanfah Prosper Training & Consultancy.
As a pioneer CIMA Membership Assessor from Malaysia, Chee Wan is actively involved in giving talks and doing workshops for potential members who wanted to apply for CIMA membership locally as well as in Singapore and has conducted in house training as well as public training programmes on Finance, Accounting and Taxation both locally as well as oversea.  With the expansion of more oversea Membership Assessors, Chee Wan has been mentoring two new Assessors in Malaysia.
After started his own business, Chee Wan has been keeping up to date of the current technology.  Among some of the achievement are created his own business websites, developed mobile apps and ventured into E-commerce.
All in, Chee Wan has more than twenty-five years of hands-on-experience in different areas of management and functions in diverse industries such as in auditing, printing, construction, manufacturing, consultancy, engineering and trading.  Other than Finance, Accounting, Auditing, Taxation, Corporate Finance and Credit Control, some of the other functions include general management, business development, business strategic planning, performance improvement, quality assurance, human resource management, information technology and management, budgeting and strategic cost management.
Chee Wan has attended the Train The Trainer training conducted by PSMB and is a certified trainer under PSMB (Certificate No. TTT/6518).  Chee Wan is also a Certified GST Consultant / Trainer having completed the Royal Malaysian Customs Department GST training and passed its examination.
PROGRAMME OUTLINE
DAY 1
MODULE 1 : SPEAKING ACCOUNTING
Understanding what is accounting and why accounting
Know the objective of a business / Organisation
The purpose of Financial Reports
MODULE 2 : TYPES OF ACCOUNTS
What are the Fundamental Accounting Concept and assumptions used in preparing Accounting Records and why these are being used?
Differentiate between Assets, Liabilities, Expenses, Income and Equity
Understanding the Accounting Equation of Assets = Liabilities + Equity
Differentiate between OPEX and CAPEX
MODULE 3 : READING FINANCIALS
Introduction to the various Financial Statements and their uses
Tools use in Financial Statement Analysis

Vertical Analysis
Horizontal Analysis (Trend Analysis)
Ratios Analysis – operational ratios, financial ratios and valuation ratios

Statement of cash flows

The difference between Profit and Cash and why the saying "Cash is King"
How to analyse the statement of cash flows

Different between Publish Accounts and Management Accounts
Causes, Trigger and Early Warning of Financial Distress
What are the Limitations of Ratio Analysis
DAY 2
MODULE 4 : COSTING DECISION
What is Cost?
Cost Behaviour
How to differentiate between direct and indirect cost?
Differentiate the controllable and uncontrollable cost
Cost – Volume – Profit Analysis

Learning the Contribution formula and thus working with the Break–even Point analysis
How to decide on the Pricing?
MODULE 5 : BUILDING BUDGET
Types of budgets
Differentiate the various types of budgets – Incremental, Zero-based and Rolling
MODULE 6 : COMPARING BUDGET APPROACHES
When and which is better – Top-down or Bottom-up approach?
MODULE 7 : BUDGETING AS A PLANNING AND CONTROL TOOL
Using the budget to control the business and what are the limitation factors.
Understanding the Budgeting process and its coordination
How to forecasting sales revenues and expenses and building up the budgets numbers
When to adjust the budget to reality
MODULE 8 : INVESTMENT APPRAISAL
Understand the basic investment appraisals – Payback Period, Return On Investment (ROI), Net Present Value (NPV) and Internal Rate of Return (IRR) for better decisions making
Comments from past participants :

"Very Experience, well explained, professionally presented and very patient in re-explanation on things which was not understand by the participants of this Finance for Non Finance Managers training." – En. Abdul Kadir Bin Bidin, Executive Director – PTIS Engineering Sdn. Bhd

"I was unsure of the subject of financial management before attending this course. However, after going through it I found it very suitable and applicable to my business. I feel so much more confident on this topic after attending this Finance for Non Finance Managers course. Mr. Tan made things very easy for us to understand." – Ms. Ivy Soo, Manager – Cherub Rubs Organics.

"I can now use ratios to evaluate the Financial Accounts more confidently. Mr. Tan has substantial knowledge on the course and share real life experience in various industries." – Sarah Atan, Accounts Department – Talisman Malaysia Limited

"Although I am not from the financial background and Mr. Tan used such an easy to understand way to help me understand a lot of financial related info. Mr. Tan is very knowledgeable and provides clear explanations. Good job! Thanks." -YY Ong – Lotte Chemical Titan

"Annual Reports made more sense now." – Rohaiza Bt Mohamed Razali, General Manager – Pelaburan Hartanah Berhad
"Overly exceeded my expectation."- Shafitri Bin Md Rejab, Service Manager – Science Stroke Sdn. Bhd.
Course Fees & Registration
FEE PAYABLE PER PARTICIPANT :
Normal Price                                          : RM1,688
Early Bird (15 days before event)       : RM1,588
Group Discount (>2 participants)       : RM1,388
Fee includes course materials, lunch, 2 tea breaks per day and Certificate of Attendance (upon completion of the training).
Download our Registration form Here and sent it to us by
Fax : +603 5523 2827
Email : sales@wanfahprosper.com
CANCELLATION / TRANSFER
Upon registering, participant(s) are considered successfully enrolled in the event.  Written cancellations / transfer notice (substitution or to later dates) received :
More than ten (10) working days before the event, a refund (less administrative charge of 15%) will be made.
Ten (10) working days or less before the event, no refund will be made.
For no show on the day of the event, full payment is required. If you cannot attend the event, you can nominate a substitute at any time without payment of an administration fee.
A full (100%) refund may be granted if the course is cancelled by Wanfah Prosper PLT (WFP). WFP reserves the right to postpone or cancel the event and / or change facilitator at any time should circumstances beyond its control arises. WFP also reserve the right to make alternative arrangements without prior notice should it be necessary to do so.
Payment
Please make cheque payable / direct credit to :WANFAH PROSPER PLT
Accounts Number : 3812930508
Bank : Public Bank Berhad
DATA PROTECTION
Personal Data is gathered in accordance with the Personal Data Protection Act 2010 (Act 709)